Brachiopods
Marine animal. Two shells (one on the upper and one on the lower surfaces) that are hinged on the rear end. Both shells generally have bilateral (Left / right) symmetry. In life, a stalk-like pedicle attaches the animal to the seabed. Articulate brachiopods have toothed-hinges and simple opening and closing muscles while inarticulate brachiopods have untoothed hinges and a more complex muscular system.
Early Cambrian to Modern.
Powered by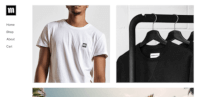 Create your own unique website with customizable templates.